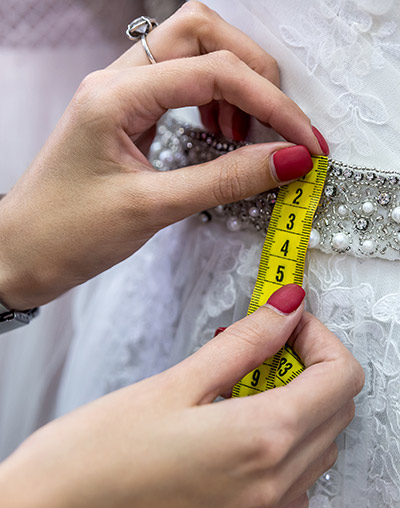 Our resident seamstress Savinder has 30 years experience making alterations and tailoring the widest variety of outfits.  Wedding dresses (any bridal wear) and prom dresses can be tailored and altered as required.
Alterations For The Perfect Fit
If the perfect fit is important to you, Savinder can make the changes you need to take your outfit to the next level.   Whether you need your new dress taken in or let out, we can make sure that you and your outfit, look perfect for your special occasion.  If you need the length of the dress reduced or hemming, to modify the bust of the dress, or to add appliqués, we can tailor your dress to perfection.
Modifications To Dresses
Occasionally, we find a dress which is so close to perfect that nothing else will do, but it is missing the final touch.  When it is clear that a slight change would create the dress of your dreams, Savinder can work with you to add detailing, or make changes that mean the world to you.
Let Us Know Your Requirements
Though our customers often use our alterations service as part of our purchasing and consultation process, we also welcome enquiries from customers who have already have a dress.