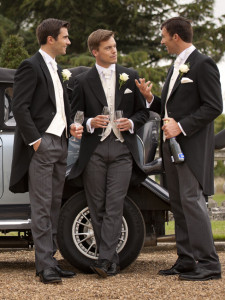 We can provide men's wedding hire for any size of group, large or small and the Grooms suit hire is free if there are 5 or more men in the bridal party.
Award Winning Men's Wedding Hire
By Cameron Ross
We are pleased to offer groomswear and men's formal hire for best men and ushers by one of Britain's best, Award Winning formal hire company – Cameron Ross.
We are proud to stock their trousers, jackets, waistcoats, neckwear (ties and ruches) and shirts.
Menswear can also be hired for proms and black tie events.
You can try using their outfit builder (click the link here and then select 'Get Started').